My family (wife, 14-month-old, dog, and I) just returned from a two week long road trip to the Midwest. The purpose was to visit family and travel safely. So we purchased a tow vehicle and rented a travel trailer. This was our trailer rental.
Days 1-4
Our first destination was a little property closest to Morgan, MN. Since the baby is still on a two-nap schedule, we decided to depart home after he woke from his first nap. That set us back time-wise. We managed to make it to a Nebraska state park that evening and it was quite lovely.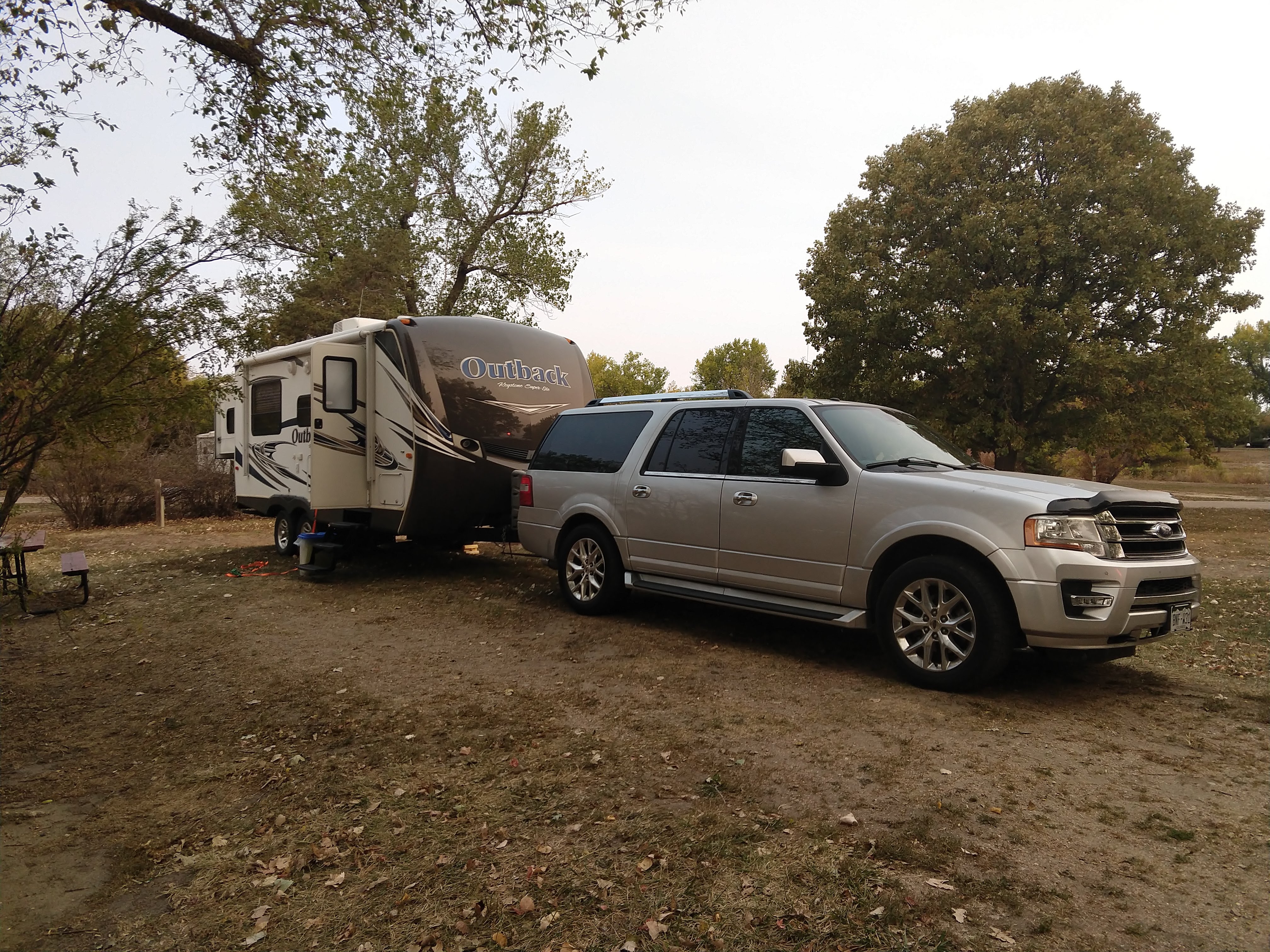 We started establishing our morning travel routine, which was to get ready, have breakfast, and be on the road right as his first nap time was hitting. After breakfast I would prep the trailer for departure while my wife took the baby for a walk. The dog usually stayed in the trailer with me and I would move her to the truck as one of the last pre-departure steps.
The second night we almost made it to our first destination, but we were still paying the penalty for the first day's late departure. We stayed in a Minnesota county park and had it all to ourselves.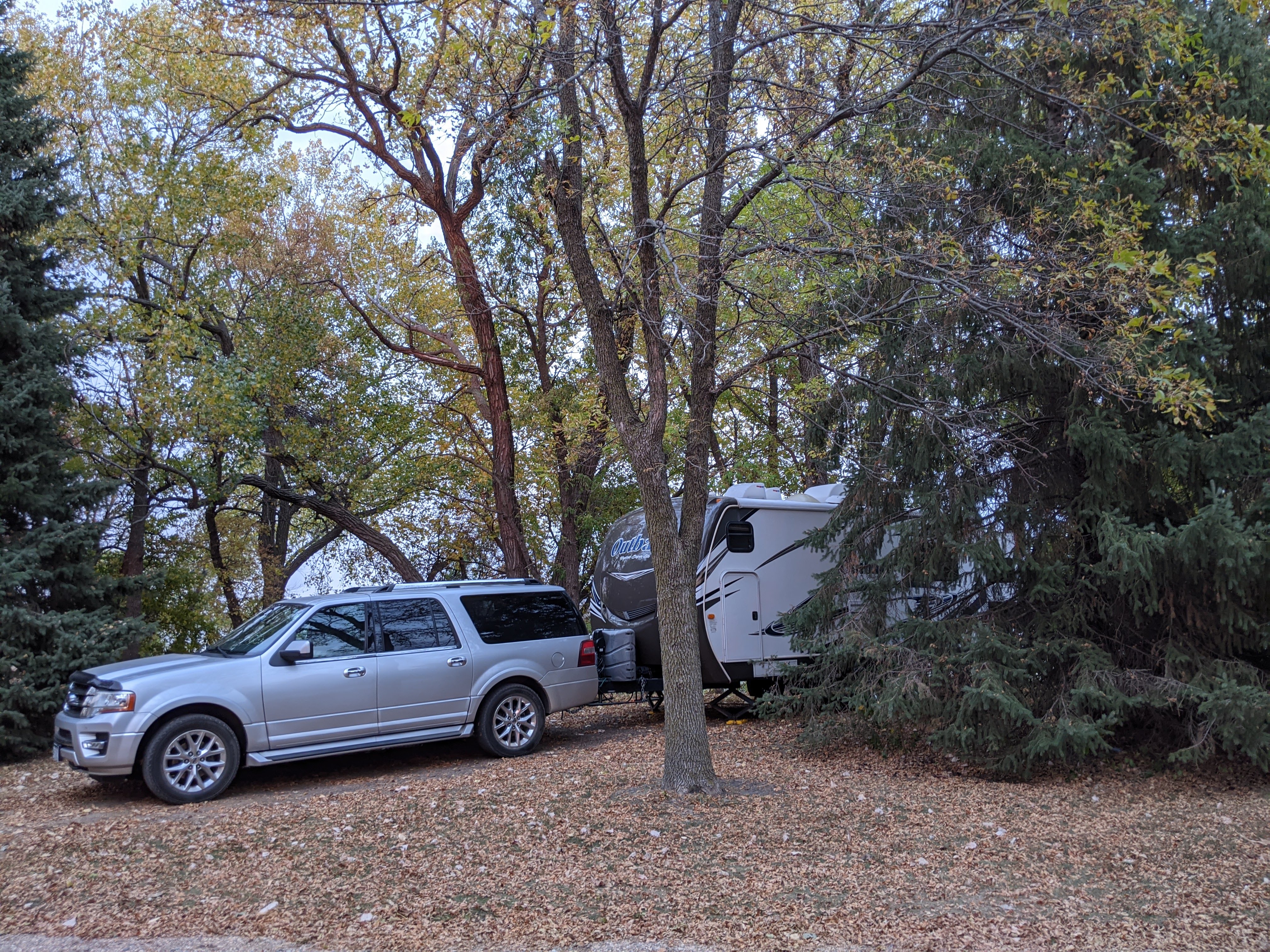 By mid third day we made it to our first stop.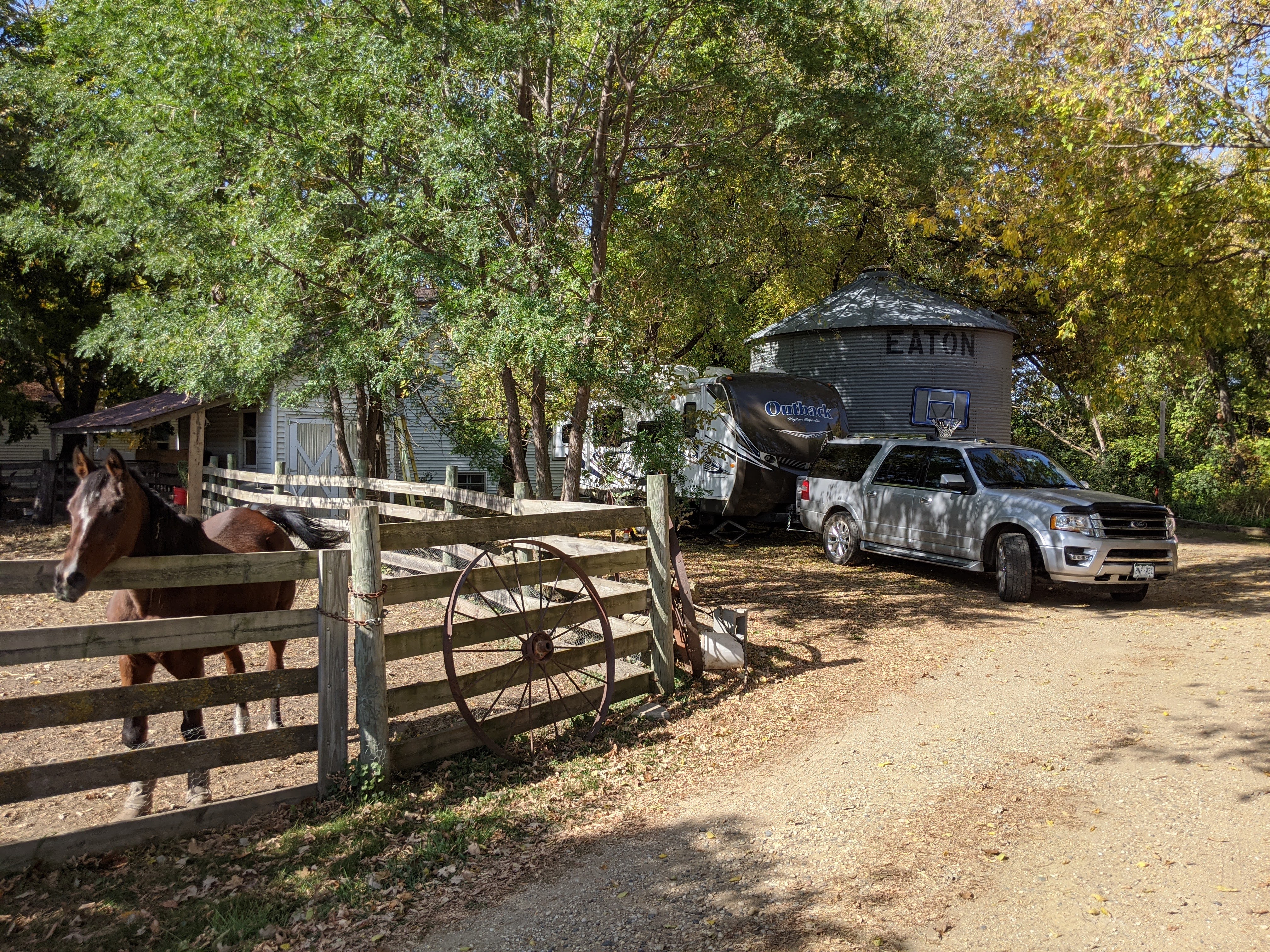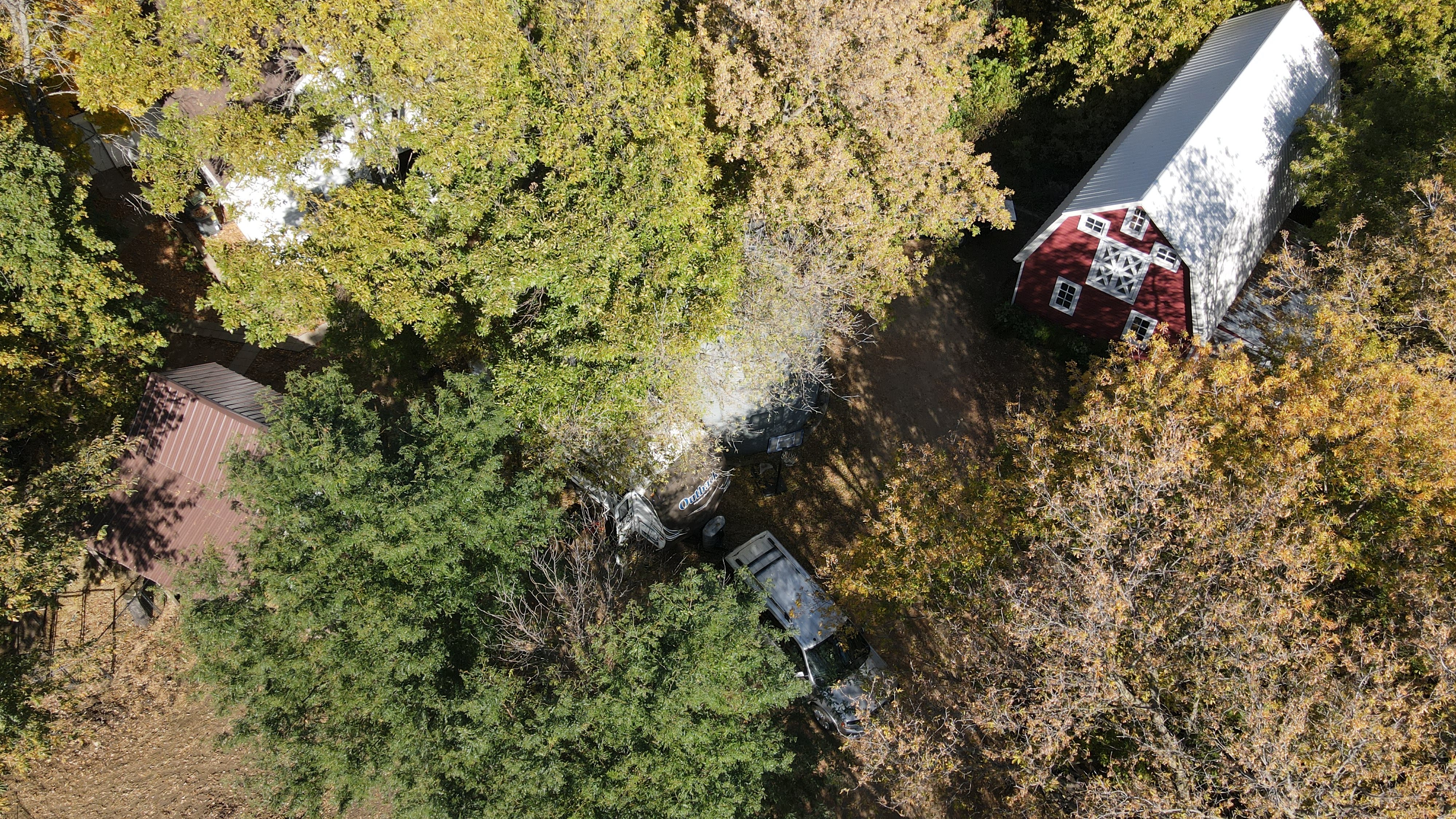 Days 5-7
We stayed only one night and then left for Chicago. On the road we stayed at a KOA in Wisconsin. The site was quite noisy as it was close to the interstate, but it did have full hook-ups (electric, water, and sewer) plus wireless Internet.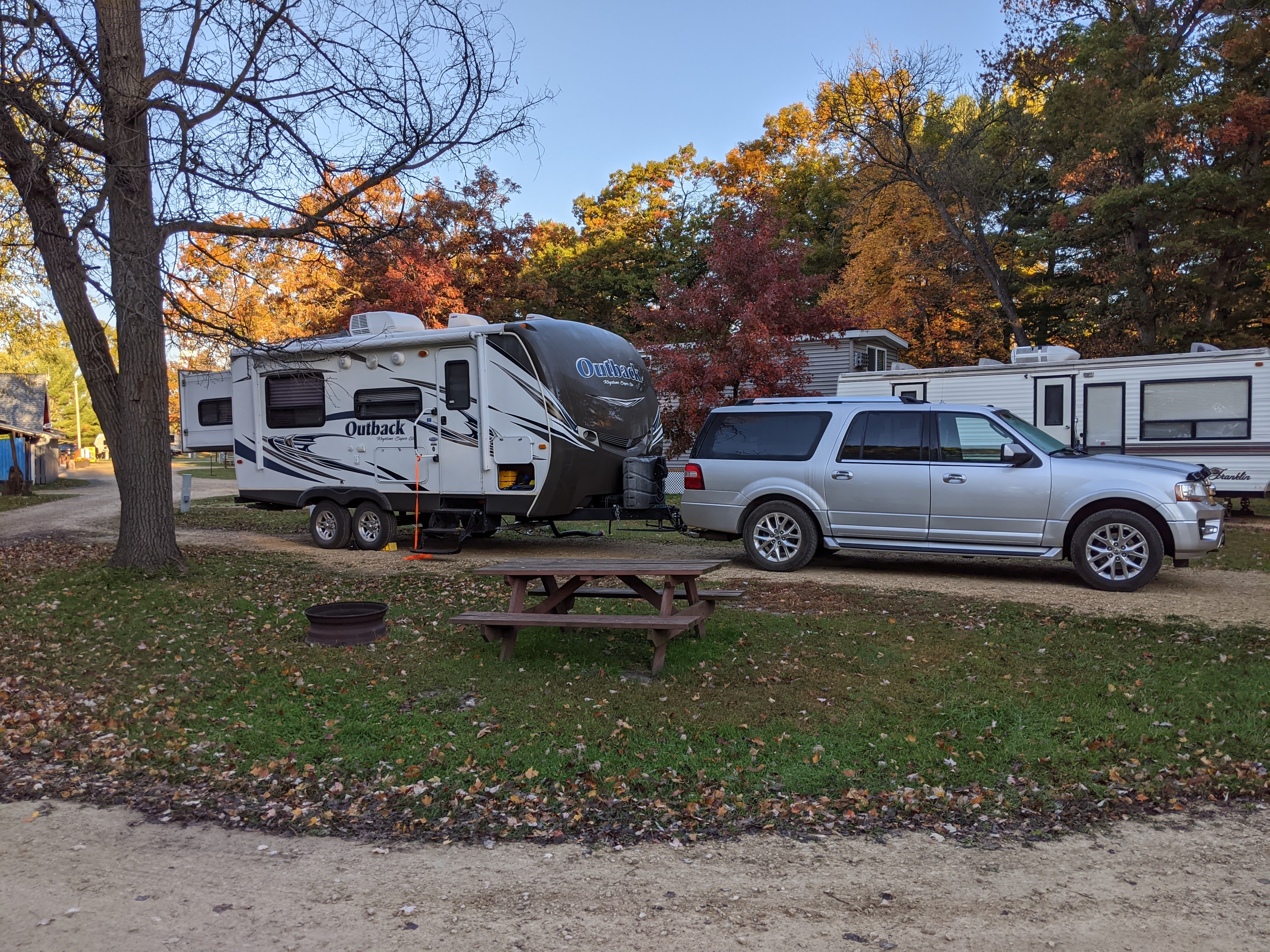 In Chicago we wanted to stay as close as possible to family, but the first two parks we visited were booked for the weekend. We managed to get a first-come-first-served site in Elgin, where we finally stayed for three nights without having to move.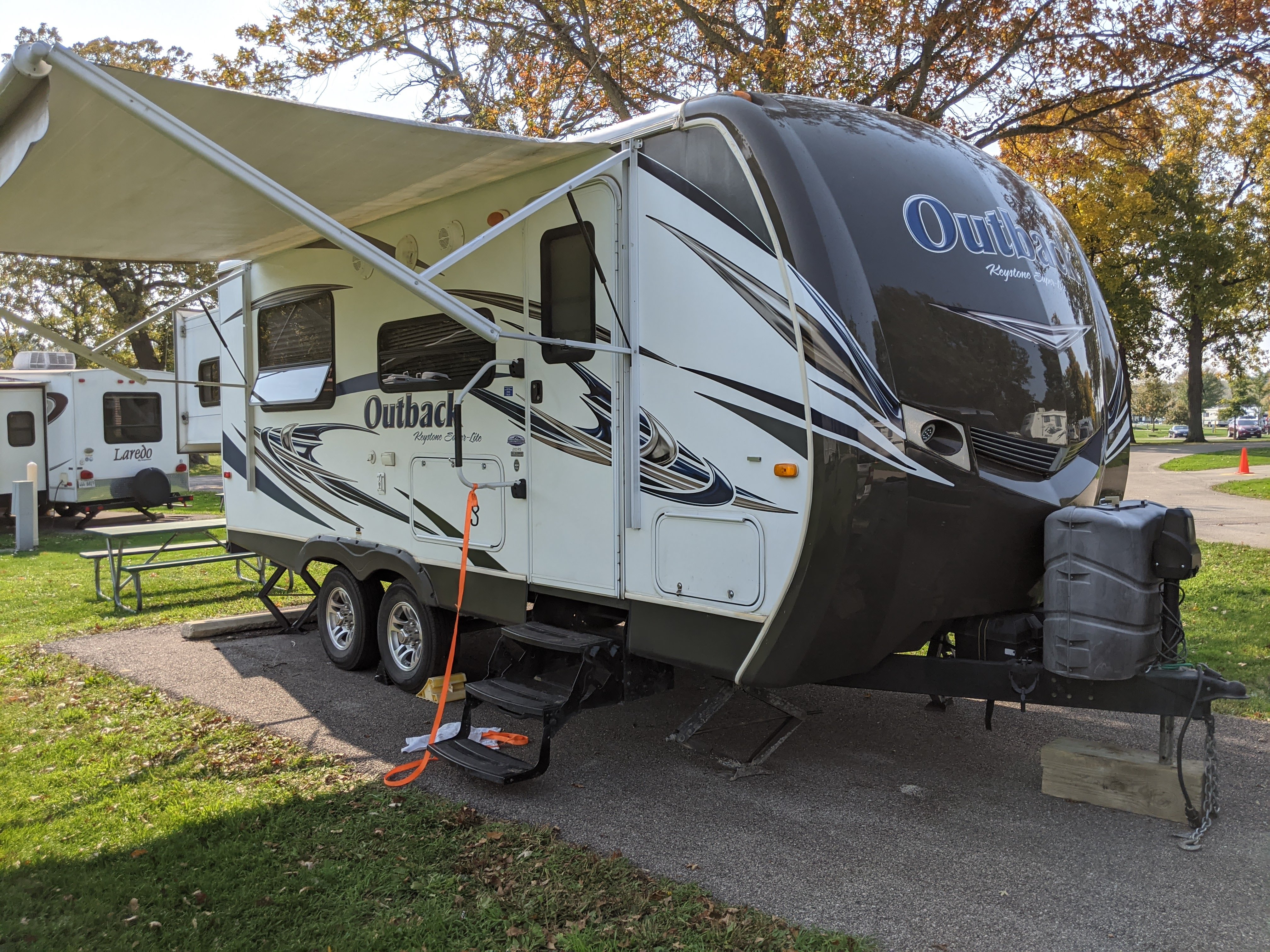 Days 8-11
Next it was a quick trip down to Champaign, where we stayed on private property for another four nights. We finally got some rest by having full access to a real residence complete with all the niceties such as unlimited running hot water, laundry, Internet, and full kitchen. No icemaker but oh well.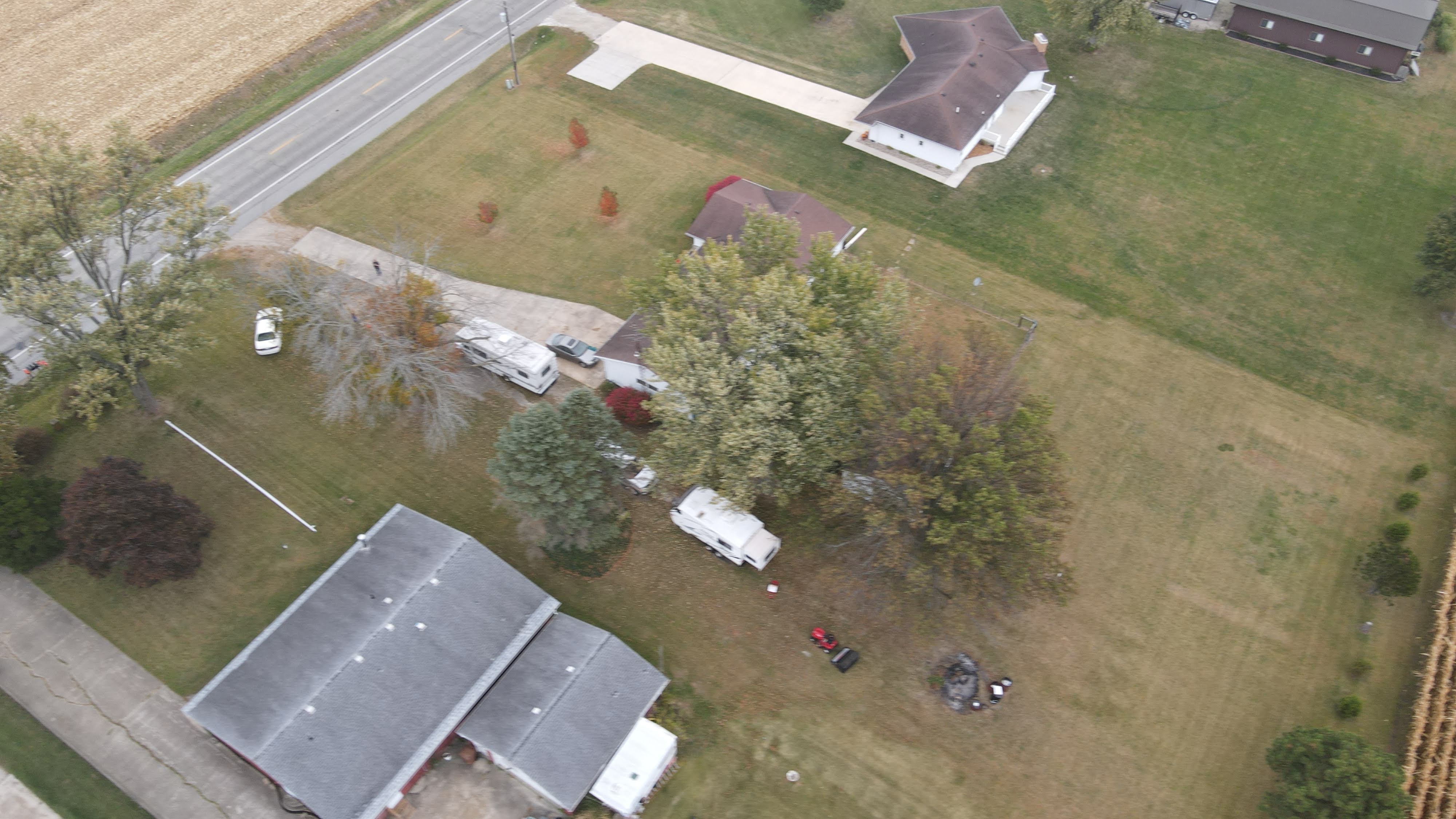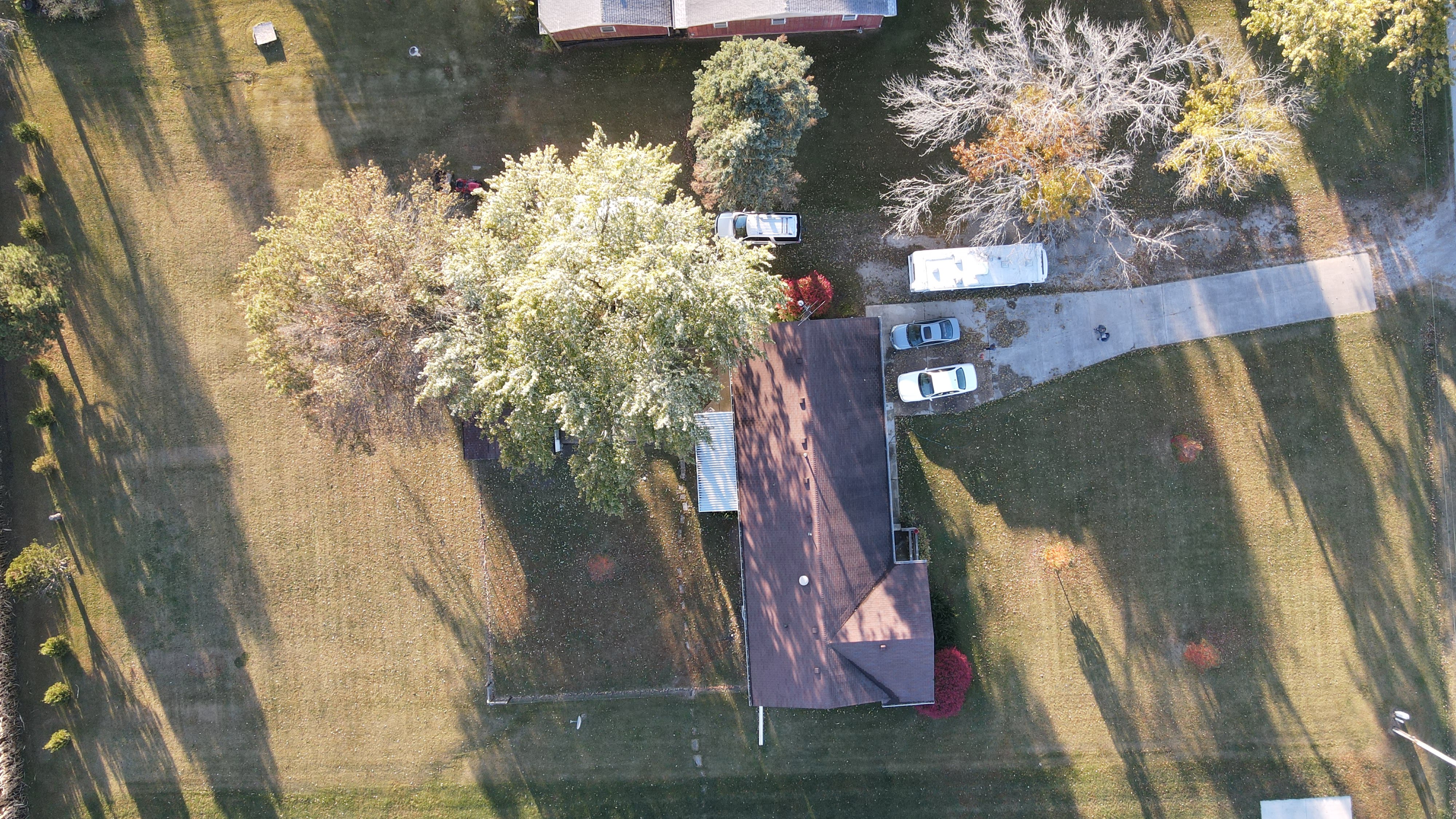 The land is flat out there, so the aerial view afforded by the drone allowed a long line of sight. Here is a nearby grain elevator.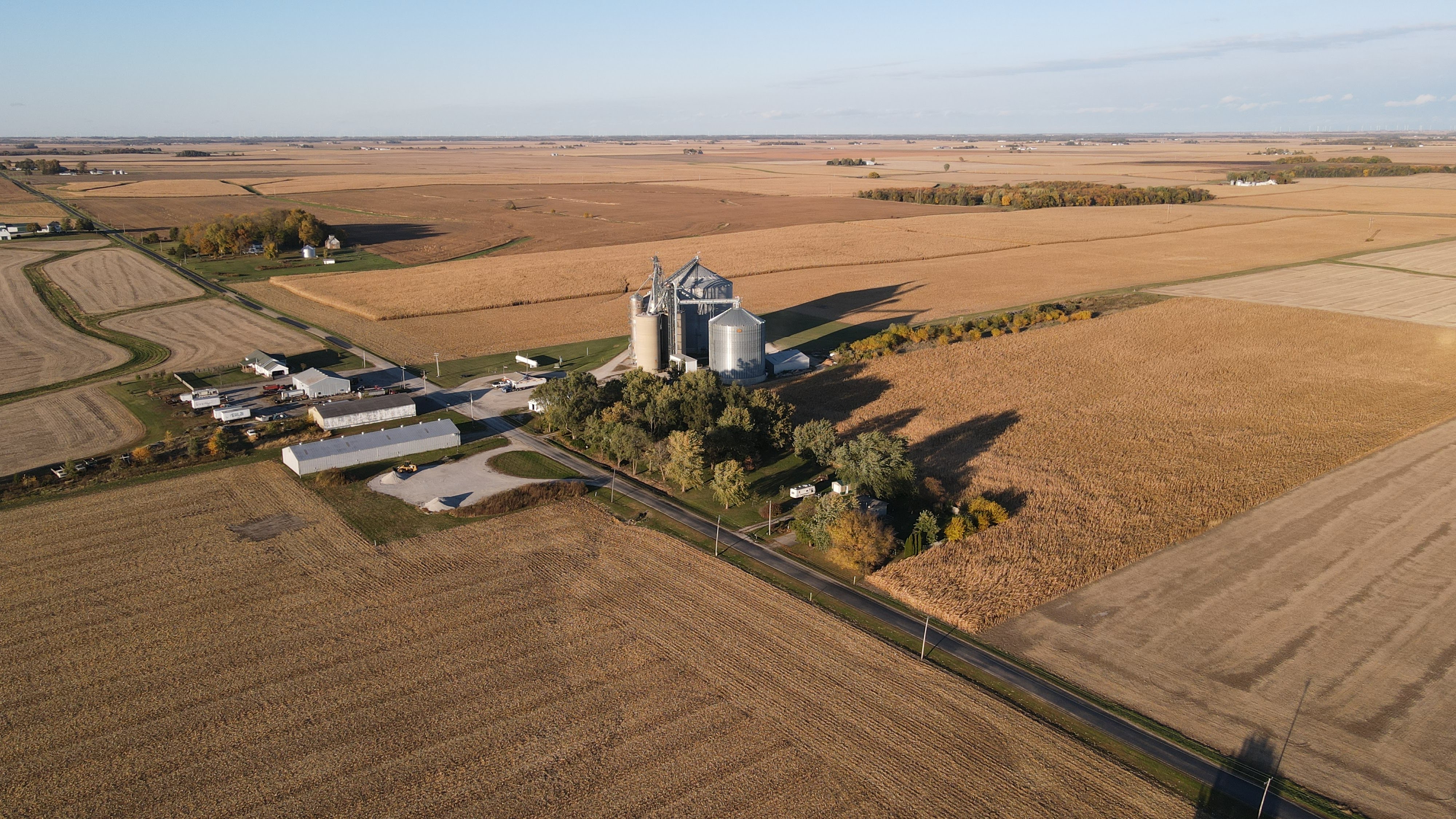 Days 12-14
Then it was two nights back on the road, taking US-36 the entire way from Illinois to Colorado. The first night was one of the trip's best locations, a state park in Missouri, and we finally made a campfire. No open burning back home.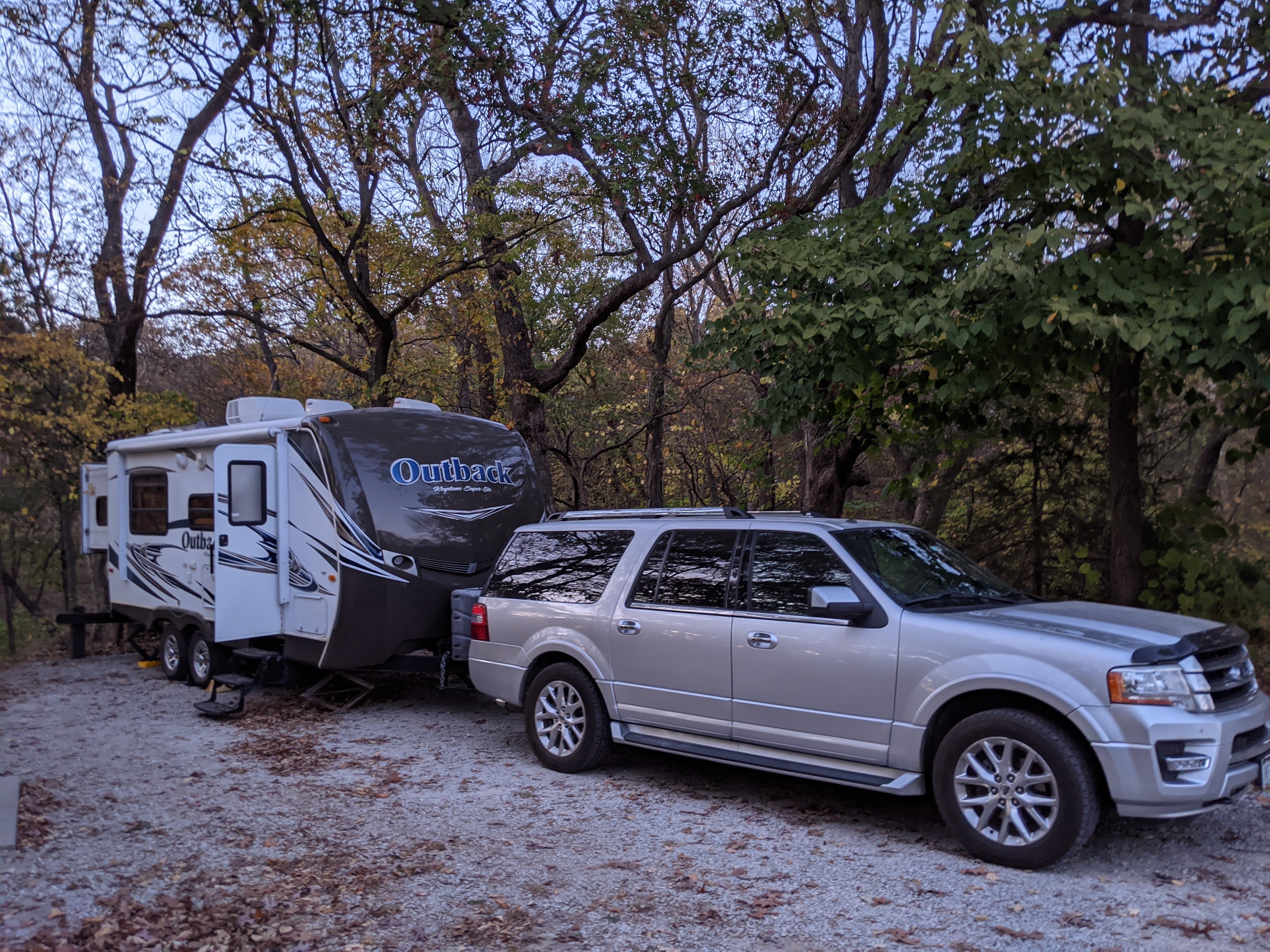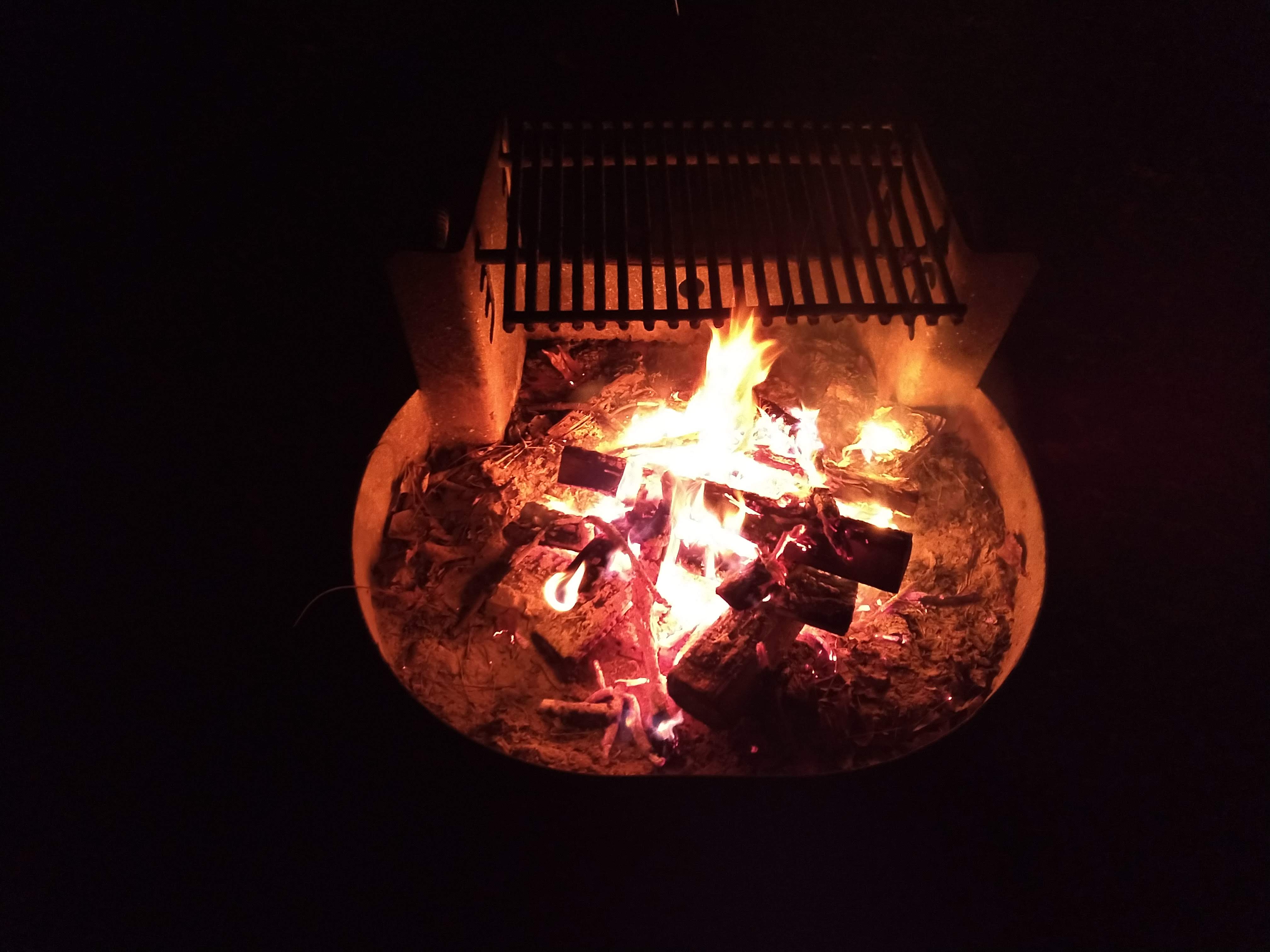 The second night was in an RV park in a tiny town along US-36 in western Kansas.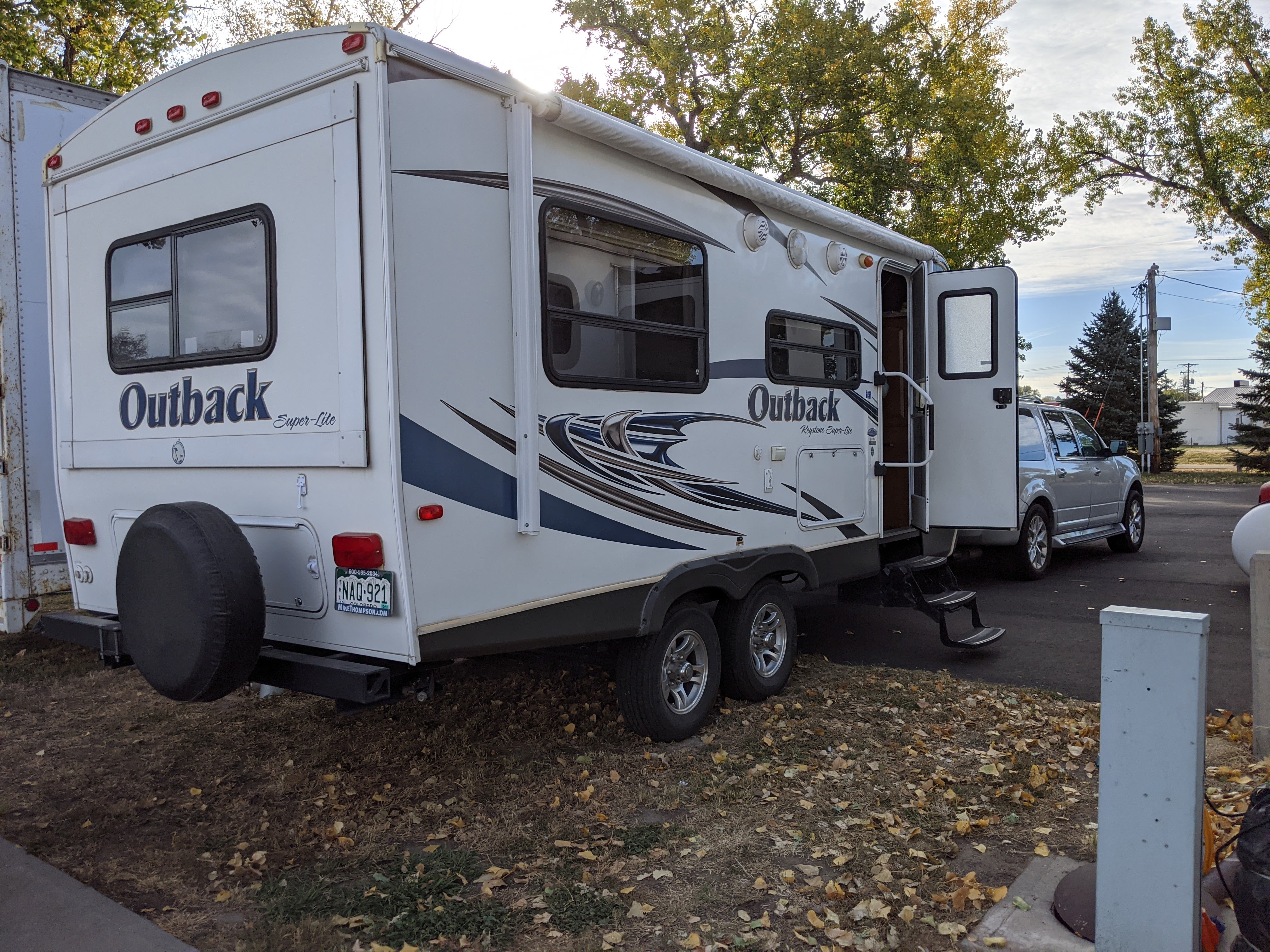 Then we filled up the gas tank and travelled nonstop all the way back home, with 20 miles left until empty. As we drove 36 towards the mountains, a brand new wildfire greeted us.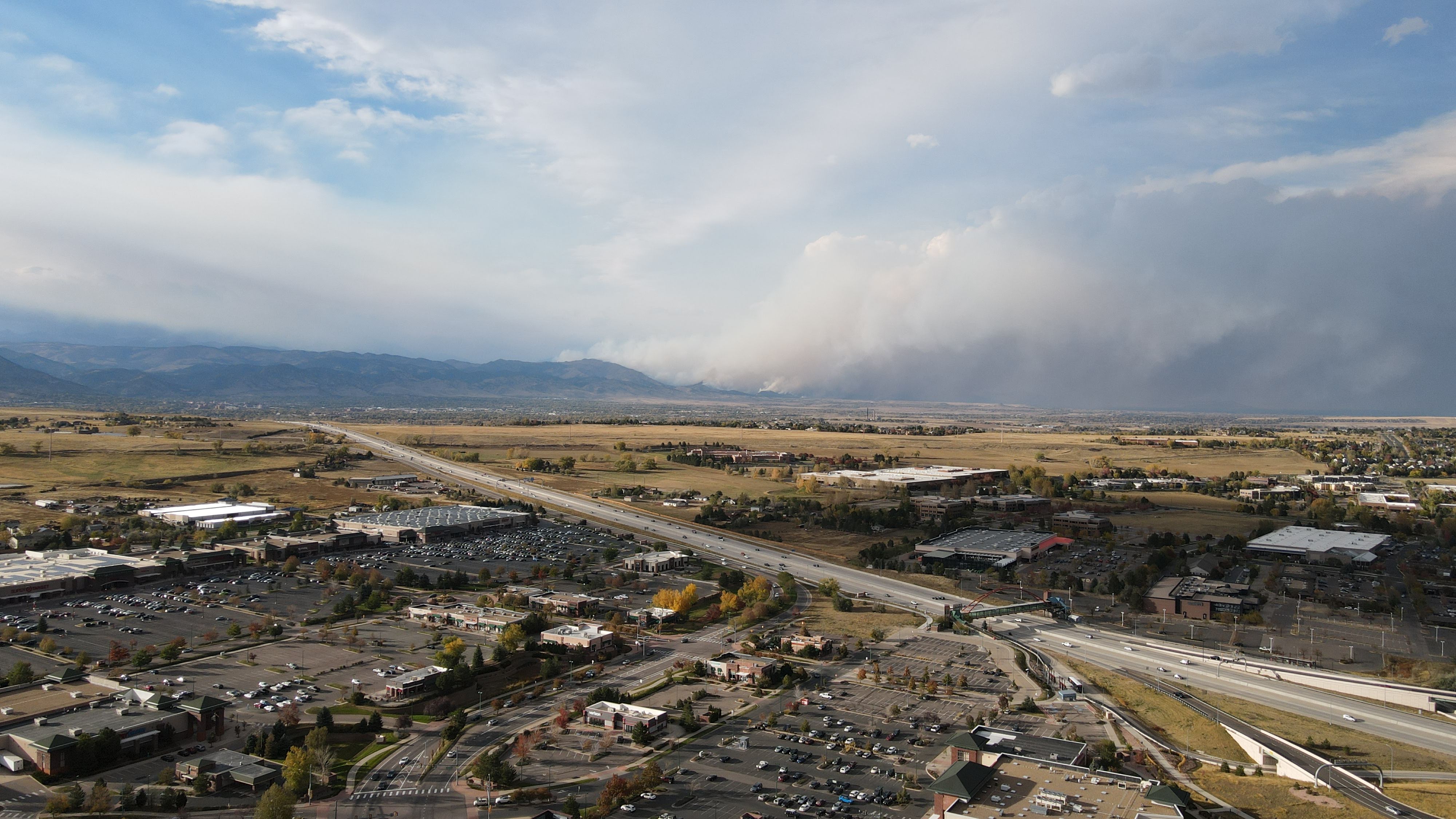 Takeaways
Some random, incomplete takeaways from the trip:
Towing your own portable hotel room is pretty awesome, especially and particularly in times of pandemic.
Get comfortable backing your trailer because most sites will be back-in. A spotter is helpful.
It's still a lot of work to set-up and tear down. This got tiring and frustrating by the end of the trip, especially with distances that spanned two nights on the road between destinations. Our model required turning the dinette into a bed in order to bring in the slide.
Trailer dinette tables do not support clip-on highchairs.
Practice water-conserving showers and dishwashing.
Get a trailer that's not so narrow on the inside (see: side slide) or that has the kitchen at one end.
If you have a messy eater and a borrowed trailer, bring a durable, plastic cover for the dinette bench.
Storage will be awkward and inefficient. Add hooks, shelves, and pockets wherever you can (if owned).
Do not pack messy foods if possible (see: cottage cheese).
You may want to purchase separate drinking water depending on the quality of the potable water at your campsite(s).
Be handy. Especially with a trailer. Necessity of this one increases with age of trailer.
Elderly dogs may not do well with the steep entry steps; a toy hauler type ramp may be more suitable.
You can expect your MPG (or mi/KWh) to be roughly halved when towing.
Denver is a metropolitan oasis 600+ miles from the next largest population center. This makes it a long, lonely, boring drive to get to family who don't live in the area.
Automatic lane keeping and adaptive cruise control sure will be nice when towing.
Reserve campsites near large population centers well in advance if at all possible.