2016 Tempo Carmel Electric Bike Review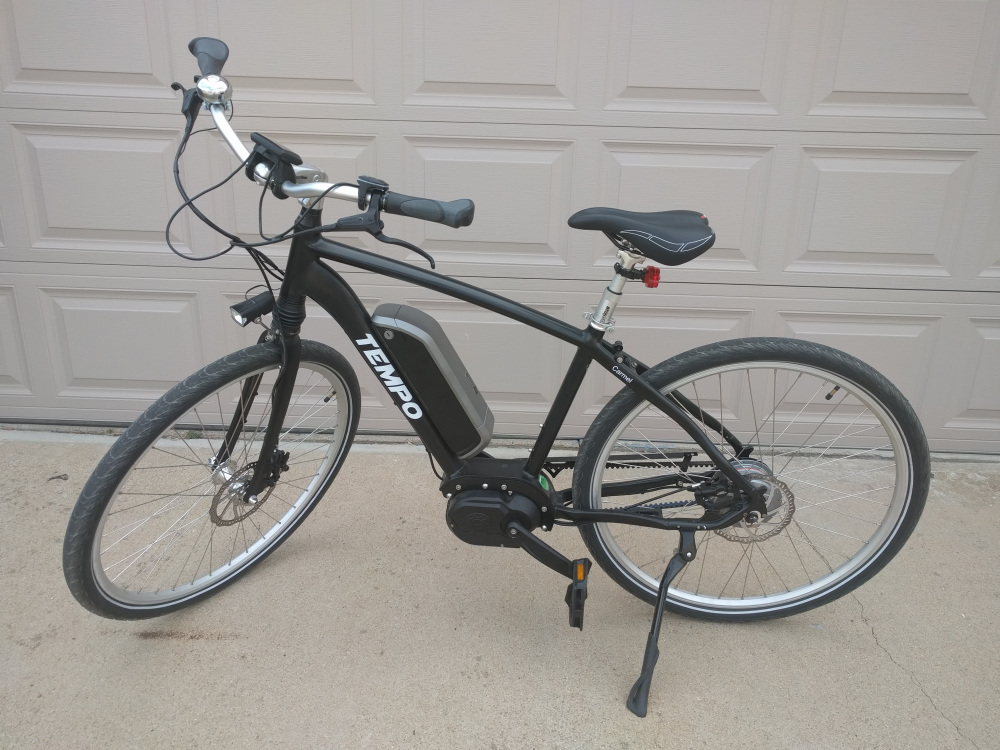 I recently purchased this ebike and since I couldn't find any in-depth reviews online, I thought I'd share my observations.
I have been obsessively researching ebikes online since my 2008-ish Currie eZip Trailz started to accelerate its deterioration. Sure, I could buy new tires, true the rear wheel, replace the brake pads, and replace the throttle assembly, but even after all that (which would probably cost about as much as the bike originally did), I'd still have a low-torque (about 10-20 Nm), noisy ebike with heavy 24V batteries. So in a flurry of ebike test rides (both for me and for my wife who would like to flatten out the big hill coming home as the last obstacle to consistent bike commuting), I encountered the Tempo Carmel.In my research I wanted to find a high-tech ebike with the following characteristics:
mid-drive

class 1 (pedal-assist only, up to 20 mph)

traditional high-step frame for extra stability at speed

upright seating posture for comfort and to keep weight off my hands as much as possible

front suspension

hydraulic disc brakes

Gates Carbon Drive belt for long term durability, quiet, smoothness, and (potentially) lower long-term maintenance

integrated light(s), if possible

battery as close to the center of the bike as possible for better balance and stability
I happened across a 2016 Tempo Carmel at a small local bike shop. I was looking for the Santa Barbara, which I thought was at the shop, but it was not. I wasn't expecting or even looking for the Carmel, but there it was. I immediately noted the transmission system with the NuVinci rear hub and the Gates belt drive. It's a bit of an oddity anyway to encounter Tempo Bicycles here in Colorado, since – from what I can tell – they do not have a vast distribution empire network like some of the bigger brands. Anyway, I gave it a test ride in the parking lot, and it was a lot of fun.
After testing out a few more bikes at multiple other stores, I decided the Carmel was the bike for me, so I purchased it for what I felt was a very good price and rode it 11 miles home, the last couple of miles being up a relatively long hill. Google Maps says it's 262 feet over 1.5 miles, which makes it a 3.3% grade. For the steepest part of the hill (4.8% grade over 0.4 miles), the bike kept up a solid 7 mph in maximum assist. I currently weigh 98 kg and I was carrying at least 5 kg on my back. I am 5'10" and the large/48cm frame fits me nicely.
The motor and electronics are made by MPF ("Matched Performance and Function"), and I believe the model is the 6c, which the spec sheet says delivers 75 Nm of torque with a nominal/peak power output of 250W/500W. The shop owner said it is completely sealed from water and dust and is oil-lubricated with steel gears. The motor itself is incredibly responsive and quiet, about as quiet as the Brose motor on the Bulls Lacuba Evo E8, and noticeably quieter than the Bosch units I tested. The motor appears to assist up to 20 mph. The bike doesn't have brake motor inhibitors but doesn't really need them because the motor stops a fraction of a second after you stop pedaling. Also the belt drive makes this bike very quiet and smooth. I couldn't hear the bike that much at all working up the hill in 100% assist mode (of course, traffic from US-36 was a bit noisy).
In later riding around quiet neighborhood streets and trails, I could hear the motor working, but it wasn't loud, whiny, or annoying. It's more of a gentle whir. The motor is responsive enough to highlight my own faults as a cyclist: inconsistent delivery of power to the pedals. It immediately amplifies any efforts I put into pedaling. The amount that it amplifies my efforts depends on the assist level (0-10). At level 10 it feels nice and powerful and I was able to catch up to a more hard-core road road cyclist going up a hill, but I definitely still had to work at it and it's so responsive that I felt like my power was surging forward with each downstroke of the pedals. I smoothed out power delivery a bit by backing off on the assist level. On my old bike, which only used a simple on/off cadence sensor, the pedal assist was set at a static 50% power. This new MPF motor can tell how much I'm working and incentivizes me to work harder if I want to go faster. On the other end of the power spectrum, I tried to pedal lightly without engaging the motor, but it was difficult since the torque sensor seems to be very sensitive.
As for getting the power from the motor to the rear wheel, the bike came with the NuVinci N360 hub and the 3-button base controller (H3). If you don't know what the NuVinci is, it's a CVT for your bicycle. This is my favorite part of the bicycle. The standard NuVinci manual shifter would be smooth enough as it is, but the addition of the Harmony H3 base controller + rear hub servo motor make the transmission shift automatically to maintain a desired cadence (or pedal rotation speed). The preprogrammed cadence speeds are approximately 40, 55, and 70 rpm and are software-programmable (see here for more details on the system).
I have not tried a bike with the H8 advanced controller yet (which allows you to select a range of cadences or transmission ratios), but so far I am happy with the three speeds on the H3 base controller. I might eventually change out the controller if I want more fine-grained control of my cadence or manual selection of the transmission ratio. On my rides so far, I typically stayed with the middle 55-rpm mode and was pleasantly surprised at how steady my cadence was. One time after I decelerated more rapidly than normal, I started pedaling again and was in a much "lower gear," or faster cadence, than I expected. I think I either fooled the controller into believing I was coming to a complete stop, or the release of pressure caused the NuVinci to temporarily slip a bit. In any case, it quickly recovered. Since I had several stops and intersections on my route home, I was glad not to have to constantly shift down. In fact, it was nice not thinking much about shifting at all, and even though I am totally capable of managing that part of the cycling experience, I was able to spend my mental energy elsewhere.
The handling of the Tempo is quite nice on dry pavement and I feel more confident with this bike than my previous bikes (of course, that's not saying much given my previous models). It corners nicely and is stable at 30+ mph downhill. The tires have a nice hybrid tread pattern for pavement and packed gravel trails, and they have a reflective sidewall as well.
On to the controls. There is a five-button controller near the left grip that has the following five buttons:
+ (increase assist level)

- (decrease assist level)

light (toggle on/off)

mode (toggle through display modes)

walk (hold for low-speed motor assist)
The MPF-branded computer doesn't give an estimated range remaining display, but it does have clock, trip distance, trip time, average speed, max speed, and odometer. Always on the display, from left to right, are assist level (10 levels and off), speed, cadence rpm, and 5-segment battery meter. There is a backlight and a micro-USB port on the controller, and the only button on the display unit is the power button. It powers on/off nearly instantaneously, is detachable, and has its own coin cell backup power supply.
There are hydraulic disc brakes on both wheels. The front light is wired into the controller and runs off of the main battery. The rear light is battery powered and only blinks (at least I can't get it to do anything else). It's probably more energy efficient to blink a battery-powered LED anyway. Walk mode works by holding down the dedicated walk button. There are the typical bosses for fenders and racks, although it might be tough fitting a fender to the front fork since there is little clearance between it and the tire. There are bosses for mounting a water bottle cage.
Touchpoints: The saddle, pedals, grips, and adjustable stem are made by ergotec. The saddle is comfortable (enough) for me and has "GelTech," whatever that is. The grips are nice and I'm quickly adapting to them. I appreciate the adjustable stem and may tweak the handlebar position a little bit. The handlebars are swept back slightly but not as dramatically as, say, a full-on cruiser style. The seating position is upright but not relaxed. The pedals, which have integrated reflectors, are longer than average and seem grippy enough. They have a lip on the inside edge so my shoes don't slip off towards the bike. There is also a guard protecting the upper portion of the belt. Overall the details on this bike are nice and well-thought-out.
The front suspension is a single-spring system with pretension adjustment and no lock-out. I figure it's fine for my purposes and may even be more reliable long-term than a more sophisticated dual-piston system? The seat post also has suspension on it. I found myself sinking into it after riding for a while. There appears to be an adjustment on the bottom but I have not played with it yet.
My other top contenders were the Felt Verza E 10, the Bulls Lacuba Evo E8, and the Wallerang. The Felt uses the Bosch system and both the local dealers that I tried were having trouble with some of the the display/head units. The Bulls is a nice bike but I really wanted the NuVinci automatic shifting for a truly brain-dead biking experience. Also the Wallerang Di2 auto-shifting with the Alfine 8 was really cool, and was a strong contender. But the low-maintenance of the belt drive won out.